GLASTONBURY 2020 TICKETS SELL OUT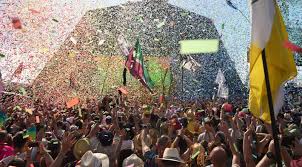 Standard tickets for Glastonbury 2020 sold out this morning in 34 minutes. All tickets for next year's event have now been sold – including the coach + ticket packages sold on Thursday night.
If you paid a deposit this morning, you should receive your confirmation email within the next few hours. And remember that you will need to pay your ticket balance in the first week of April 2020.
We are truly humbled by the incredible number of people from around the world who hoped to come to next year's 50th Anniversary Festival, with demand significantly outstripping supply.
We're sorry to all of those who missed out – as always, we wish we could squeeze everybody in who would like to come.
We have now sold out. Thank you all for your incredible, continued support. Demand was higher than ever, with over 2.4 million people registered. Bring on 2020! https://twitter.com/GlastoFest/status/1180763186993065984 …

Glastonbury Festival

✔@GlastoFest

Tickets for Glastonbury 2020 have now Sold Out. Thank you to everyone who bought one, and sorry to those who missed out. There will be a ticket resale in April – plus we'll be announcing details of a special ballot for the sale of 50 pairs of tickets in the coming days.
827 people are talking about this
There will be a resale of any returned coach + ticket packages on Thursday 16th April 2020 followed by a general admission resale on Sunday 19th April 2020. Registration will open again on 1st November.
To mark the Festival's 50th Anniversary, we have also held back 50 pairs of tickets which will be sold via a ballot to those who have missed out so far. Details will be announced in the coming days.
Thank you for your amazing support.