wheres the best place to rent and live that's affordable ?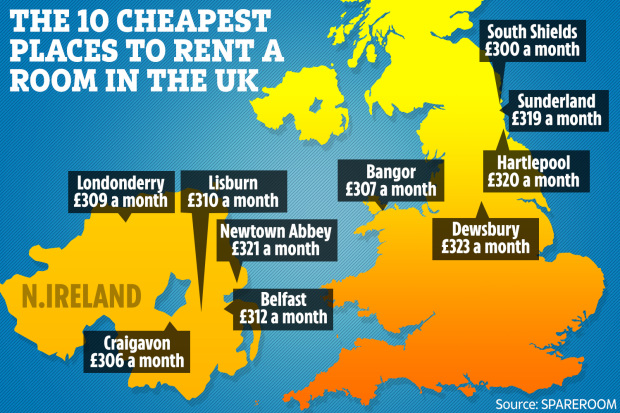 when your on a budget and looking for low cost accommodation  the cheapest properties are definitely  not in London where rent can be on the up  and in some cases you might be paying  £757 a month in rent  depending on your personal preference. thats nearly £300 more than the national average.
The cheapest places in the UK to rent have been revealed and here's where you can get a room for just £300 on average
This is closely followed by Craigavon in Northern Ireland for £306 and north Wales' Bangor at £307.
The findings from SpareRoom, a flat sharing website, also show the average cost of rent has soared by an extra £15 compared with this time last year, taking average rents from £567 to £582. cost rose by £11 a month outside of London, from £466 to £475, and by £32 a month in the capital from £725 to £757, the SpareRoom study found.
Matt Hutchinson of SpareRoom said: "House prices may have stalled but rents are on the up again. The ongoing Brexit mayhem might be putting people off buying or selling but renters still need to move.
 "With that in mind it's no surprise London continues to show solid growth, but if this 4 per cent rise is a reflection of what's to come, we'll see renters hit their affordability ceiling and may be forced further out of the capital, especially as Crossrail, when it's finally complete, is likely to drive rents up in the east and south east of London."
The biggest drop in rent happened in Southend-on-Sea where average prices fell by 5 per cent from £522 a month to £498 a month.
Rent in Preston went up by a staggering 8 per cent to £378 a month on average closely followed by Stockport, York, and Wolverhampton where it went up by 7 per cent compared with last year.
Here are the 10 cheapest places to rent
South Shields – £300 a month
Craigavon – £306 a month
Bangor – £307 a month
Londonderry -£309 a month
Lisburn – £310 a month
Belfast – £312 a month
Sunderland – £319 a month
Hartlepool – £320 a month
Newtownabbey – £321 a month
Dewsbury – £323 a mont
How to find a place to rent
With most properties now being listed online, it's easy to find property that meets your needs. However, with such a large selection to choose from, it's worth taking the time to ask yourself exactly what you're looking for before you seriously start looking; this will help you to firm up your requirements and narrow the options more efficiently.
There are three key criteria you'll need to think about before embarking on your property search:
Price – how much can you afford to spend per month/week?
Location – where do you want to live?
Size – how many bedrooms do you want? Do any of them need to be doubles?
Where should I live and what should I look for?
Though you'll need to know how many bedrooms you require, price and location in order to search for a property, this can sometimes feel daunting, particularly if you're new to renting.
To make this part of the process easier, ask yourself the following questions:
Do you need to be near any particular transport links?
How far do you want to travel to work?
How far are you prepared to travel to meet your friends?
What do you love about your current home?
What are the things you don't like about your current home that you would like to avoid next time?
What are the 'must haves' that will make your next property feel like home?
What amenities do you want on your door step?
How long do you want to stay in the next property?
If you have hobbies, is there somewhere you need to get to regularly?
Do you want to furnish the property yourself or have it already furnished?
We often find ourselves living in one part of a town or city just because that's where we ended up when we first arrived; it doesn't necessarily mean that it's the best match for your needs or your lifestyle now.
TIP: If you're unsure where to live, but know that you'd like to live a certain distance from set locations, check out our 'Where Can I Live?' tool
Searching for property
Once you're clear on your requirements, you're ready to start your search.
Rightmove works with more agents than any other property website, meaning you can find the largest selection of rental properties, in one place, on Rightmove. This makes it a great place to start your search.
Rightmove top tips:
Download our iPhone, iPad or Android app so to search on the go.
Create a Rightmove account, so that your search activity is synced across all your devices.
Activate Instant Alerts for your favourite searches so that we can let you know as soon as new properties are added that match your criteria.
If you're clear on your criteria, start a search now.