bizarre and beautiful places to visit 2016
 Glow-worm cave   Wautoma (New zealand)

This is a cave in new Zealand where you can find  glow-worms that light up the cave like illuminists lights
---
Crater Lake: (Oregon, USA)
 
Formed about 150 years ago by the collapse of the volcano Mount Mazama. This beautiful and stunning landscape will give you a new aspect on life
---
 The Great Blue Hole: (Belize)
A large submarine sinkhole which is over 984 feet across and 407 feet deep formed during several episodes of quaternary glaciation when sea levels were much lower.
---
Mount Roraima (Venezuela, Brazil and Guyana)
This remarkable tabletop mountain with sheer 400-metre high cliffs on all sides includes the triple border point of Venezuela, Brazil and Guyana.
---
The Wave: (Utah, USA)

Carved rock eroded into a wave-like formation made
of jurrasic-age Navajo sandstone that is approximately 190 million years old
---
Door to Hell: In Turkmenistan
Door to Hell is  An eternal fire thats emerges  from a massive crater, it was created by an accident after a drilling incident in a Gas mine.
---
Bryce Amphitheatre: (Bryce Canyon National Park, Utah, USA)
 
Theses bizarre
pinnacles of limestone rock and eroding fins create a majestic display of imperialism
---
The Champagne Pool: (Waiotapu Geothermal area of New Zealand)
A colourful hot spring with a surface temperature of 74 degrees Celsius. It
bubbles due to uprising carbon dioxide
---
Tsingy: (Ankarana National Park, Northern Madagascar)
 
series of carpet limestone pinnacles in  Northern Madagascar
---
---
Caño Cristales
Caño Cristales river is located in the Serrania de la Macarena province of
Meta. The river is commonly called the "River of Five Colors"
---
Hiller Lake: (Western Australia)
 
Scientists cannot explain the pink colour although they have proven it is not due to the presence of algae 
---
Socotra (Indian Ocean)

This is a small island or archipelago in the Indian Ocean, the largest of the Island which is the actual Socotra is about 95% of the total landmass of the archipelago, the location of this Island is 240 kilometres (150 mi) east of the Horn of Africa and 380 kilometres (240 mi) south of the Arabian Peninsula,
---
---
Nine Hells of Beppu (Japan)

The Japanese island Kyushu holds what is called the Nine Hells. The Nine
Hells of Beppu is popular amount those in Japan, but almost unknown to
foreigners. This is a beautiful spot to visit if traveling to this specific area.
Geysir springs iceland
---
The Beauty Pool: (Yellowstone National Park, USA)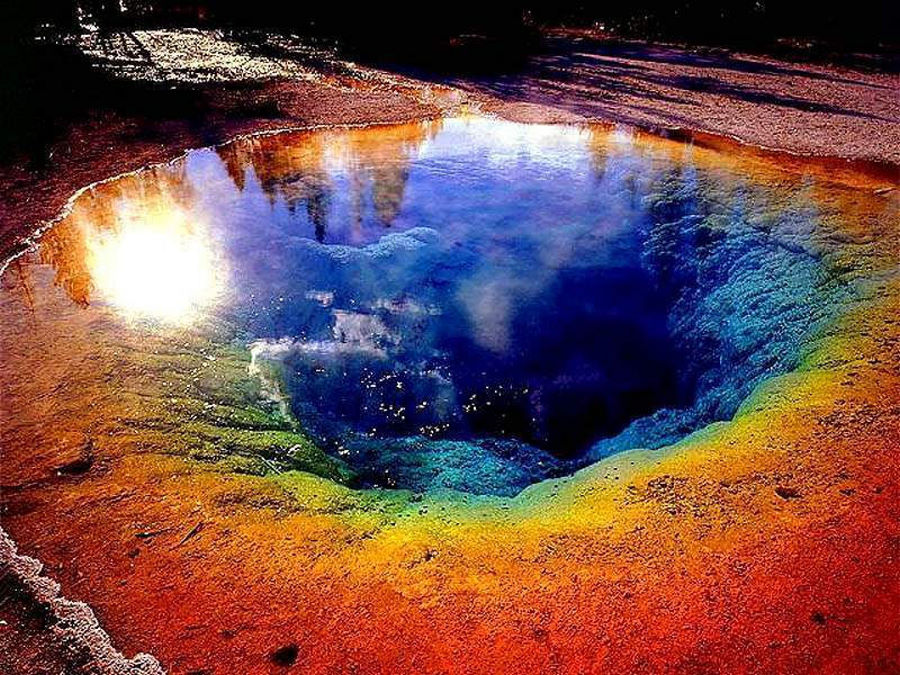 The hot spring allows luminous algae and bacteria to flourish creating a vivid array of colours. A favorite stop along the Golden Circle is the highly active Geysir Hot Spring
Area with boiling mud pits, exploding geysers and the lively Strokkur which
spouts water 30 meters (100 ft) into the air every few minutes. The newly
opened Geysir Center offers exhibits and informative presentations yearround.
---
Geysir springs (Iceland)
The area became active more than 1000 years ago and comprises more than
a dozen hot water blow holes. Although Geysir is less active these days, it
did lend its name to hot springs all over the world.
A truly unique experience offered is Geysir or 'hot spring bread' where
visitors assist a chef to boil eggs outside in a hot spring, and dig up rye bread
that has been 'baking' underground for 24 hours
---
The sliding stones: (Death Valley, California, USA)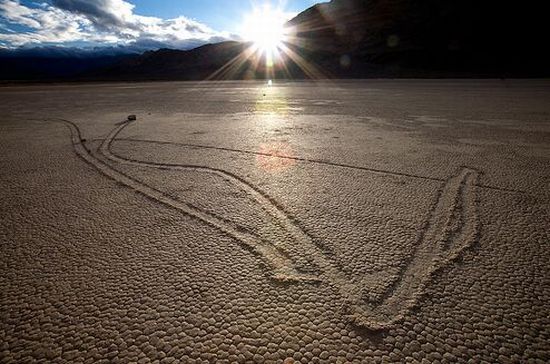 The movement of the rocks continues to baffle experts who are at a loss to explain why they have moved across a perfectly flat bed despite weighing up to 700 pounds each
---
---
volcano arenal eruption-costa rica
 
 The Arenal Volcano is  one of the volcanoes you can visit as tourist destination, with a spanning 140 metres (460 ft)  in crater size' this beautiful volcanic  mountain of lava will have you gasping for breath
---
The Puente del Inca: (Argentina)
A natural rock bridge covered by bright orange and yellow bacteria mats created by natural sulphur springs which cover the rock walls
---
Be inspired to travel with these beautiful and stunning destination